Maps Page on Spain
---
Outline
Physical Environment
Weather & Climate
Human Environment
Road maps
City Maps
Map of Madrid

Detailed map of Madrid

Barcelona City map
Urban Transportation Maps
Rail map of Spain

Metro map in Barcelona

Metro map in Madrid
Tourist Maps
Tourist map of Barcelona

 

Detailed tourist/bus map

Tourist map of Madrid
---
1 Physical Environment
Physical Map of Spain
Physical map of Spain with elevation that also includes the country capital, regional capital, and city/town. This will help me to know a general perspective of how the land/landscape is in Spain.
Political/
Administrative Map of Spain
<![if !vml]>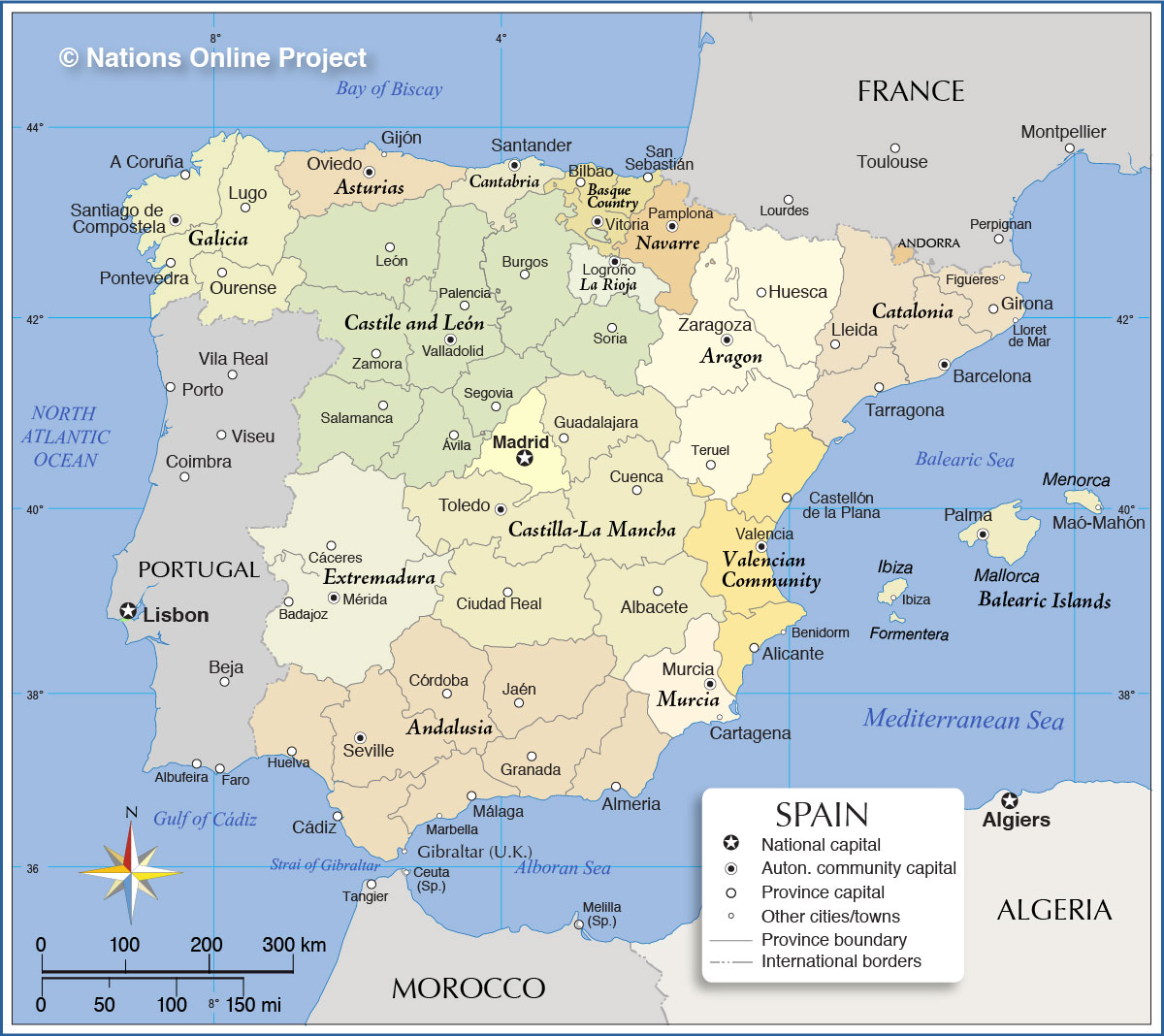 <![endif]>
This map of Spain is showing the Kingdom of Spain on the Iberian Peninsula, as well as the locations, boundaries and capitals of the fifty provinces of Spain. This is helpful to know the division of the different provinces. It helps to know the boundaries.
Elevation Map of Spain
Map of the elevation levels all across Spain. It shows the highest points and the lowest points. It has the names of the land forms and other physical features such as rivers and mountains. It is good to know and be informed about where certain land forms are located.
2 Weather & Climate
Climates of

Spain(

Koppen

)
All the different types of climates that are found in Spain. As you can see, there is a variety of colors on the map. Spain is quite diverse with the climates. It is good to know what to expect and what type of climate someone can experience while being in multiple places in Spain. It is useful to get prepared with this map.
Current Temperature Map of Spain
The temperatures recorded on Friday March 1, 2019. This is in Fahrenheit. This showed the current temperatures in winter and they are not very low, the temperatures will definitely change once summer or fall hit. Always looking ahead or at the current temperatures will help prepare for the trip, knowing what to pack in clothes or other materials.

 
Average Temperature Map of Spain
This map shows the average temperatures in Spain. It presents the maximum and minimum average temperatures. It shows a fuller picture of temperature patterns across the country. This makes you more aware of how hot or cold it gets in Spain

year round

, so you will know when is the best time to travel to Spain.
3 Human Environment
Population Density of Spain
<![if !vml]>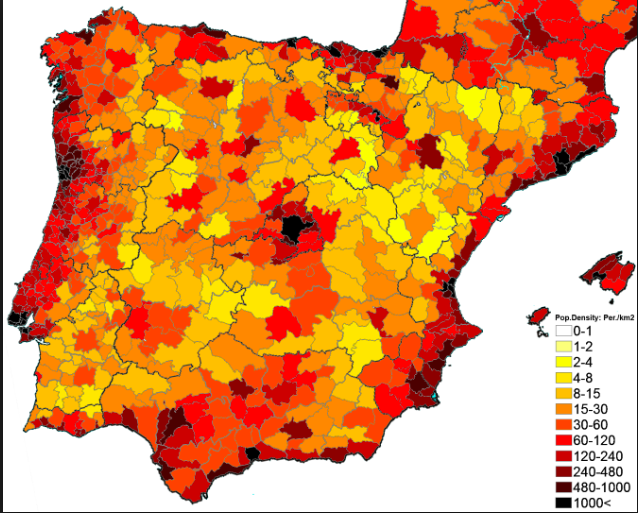 <![endif]>
A map that presents the population density of Spain in 2015. The darkest color red shows where the heaviest population is located in Spain. The cities have a much-concentrated population than the rural part of Spain. It shows where in Spain people prefer to live. This map helps with knowing where the most people will possibly be. Madrid and Barcelona are the hot-spots.
Population Map of Spain
<![if !vml]>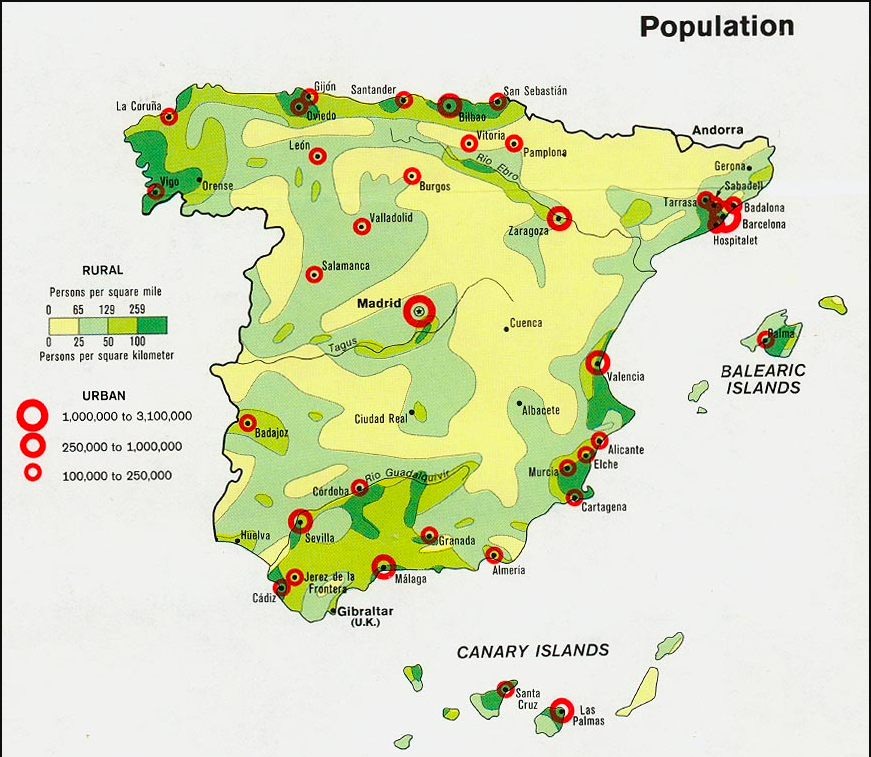 <![endif]>
The population of Spain is about 46 million people, this number came from this website that shows a live count of the population in Spain. (http://www.worldometers.info/world-population/spain-population/ ) This map shows the population from different cities and towns in Spain, The larger circles have 1 million to 3.1 million people. The middle circle has a population of 250,000 to 1 million people. The smallest circle shows a population of 100,000 to 250,000 people.
GDP Map of Spain
<![if !vml]>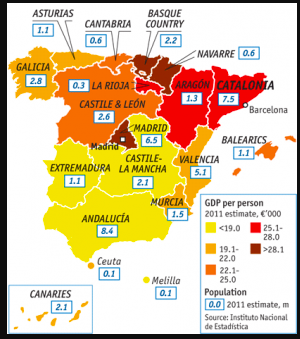 <![endif]>
Map shows the GDP per person, which stands for gross domestic product. The yellow shows less than 19.0, as a darker red shows more than 28.1. They say that this was Spain's North and South divide.
4 Road Maps
Road Map of Spain
<![if !vml]>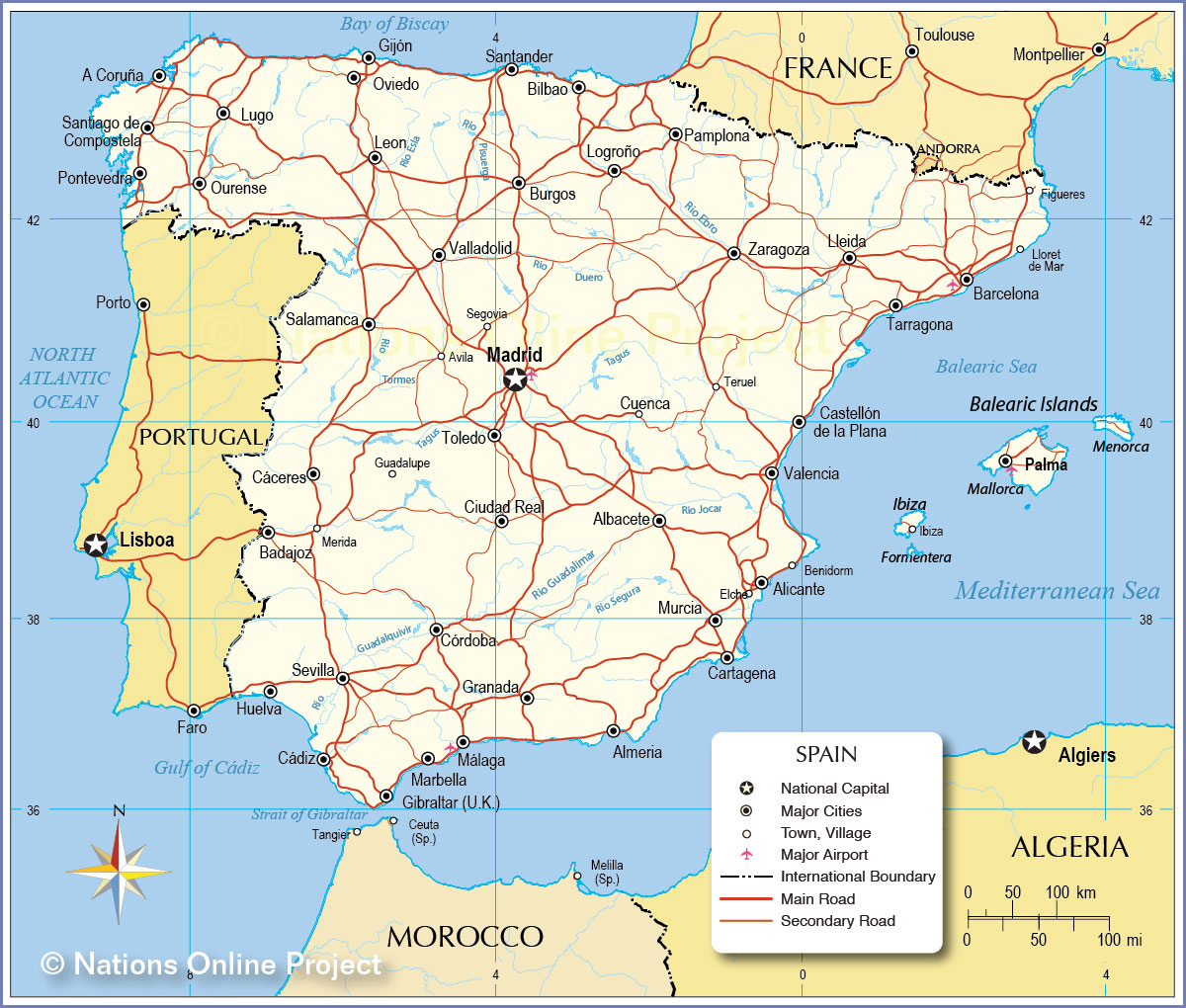 <![endif]> A broad map that shows different roads in Spain. It shows the main road, secondary roads, with the National Capital, towns, and major cities. This map does come in handy if you plan on renting a car and need to know the main roads across different cities and towns in all of Spain.
Different Roads of Spain Map
<![if !vml]>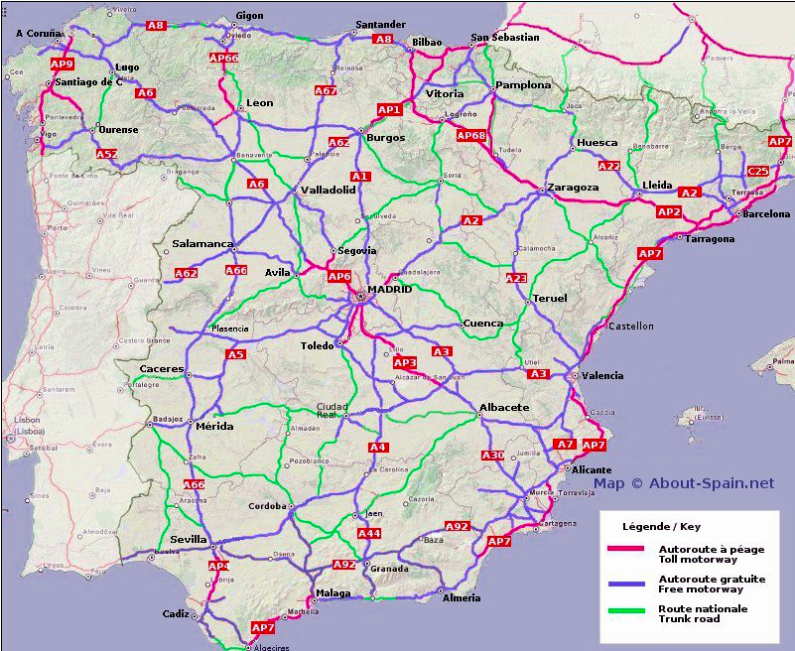 <![endif]>
Includes the main road networks in Spain. The red line is the toll motorway, the blue/purple is the free motorway, and the green is the trunk road. If driving, you know and can be careful of which roads have tolls across them and those who don't.
Detailed Road Map of Spain
<![if !vml]>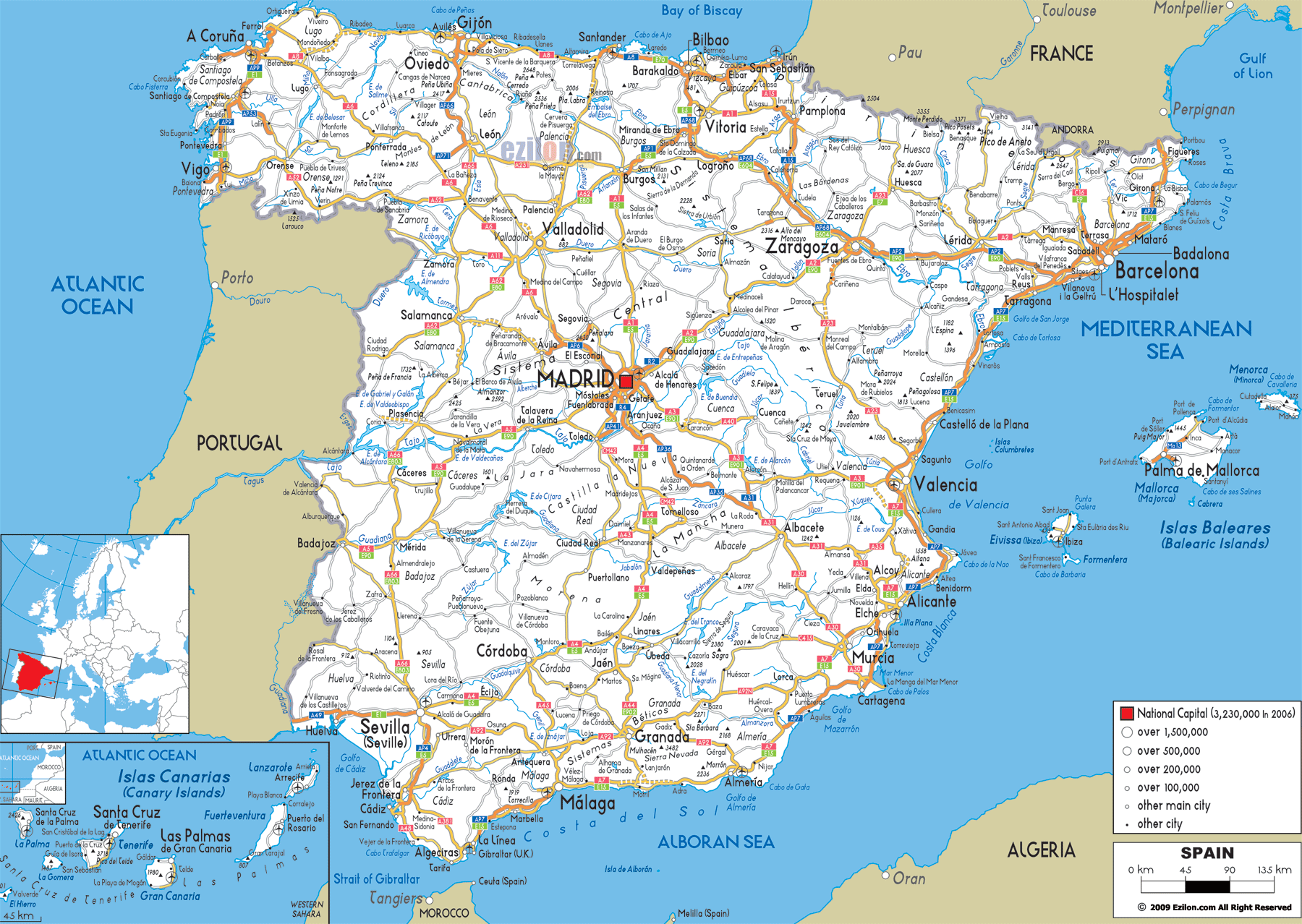 <![endif]> A detailed broad road map of all of Spain, that includes road routes from cities to towns, road intersections/exit roads in regions, provinces, prefectures, also with routes that lead to neighboring countries. This helps with knowing every detail when it comes to the roads.
5 City Maps
Map of Madrid
<![if !vml]>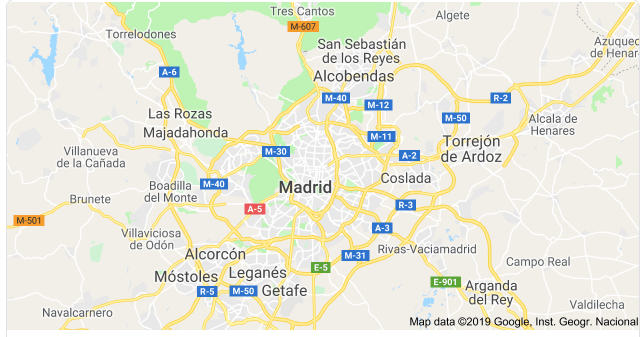 <![endif]>
The image is from google maps that shows a broad and large area of Madrid. Having a bigger and wider map of the city of Madrid can help point where you want to go or the roads to take while being there.
Detailed City Map of Madrid
<![if !vml]>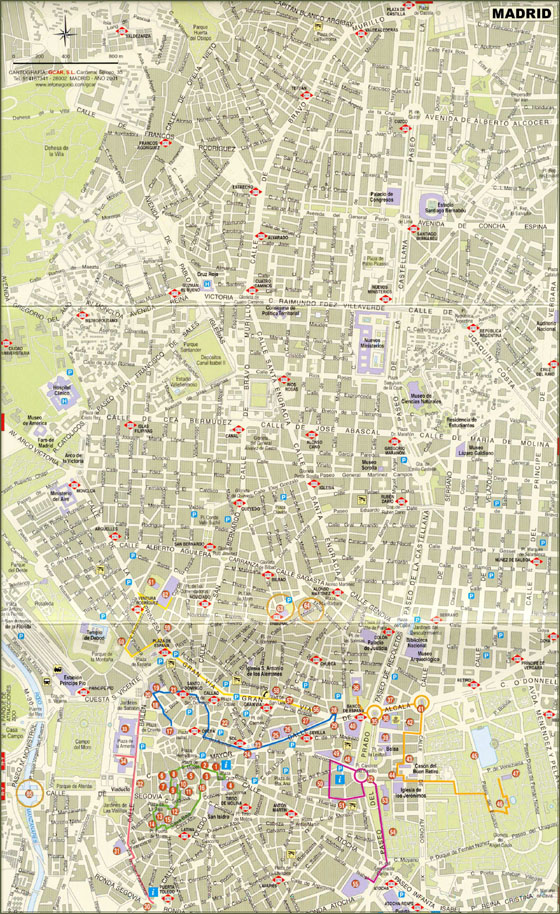 <![endif]>
A very detailed, precise, and much closer map of Madrid. While being in Madrid, this will be helpful knowing the streets and shops. It can help get you around and navigate through the city of Madrid.
Barcelona City Map
<![if !vml]>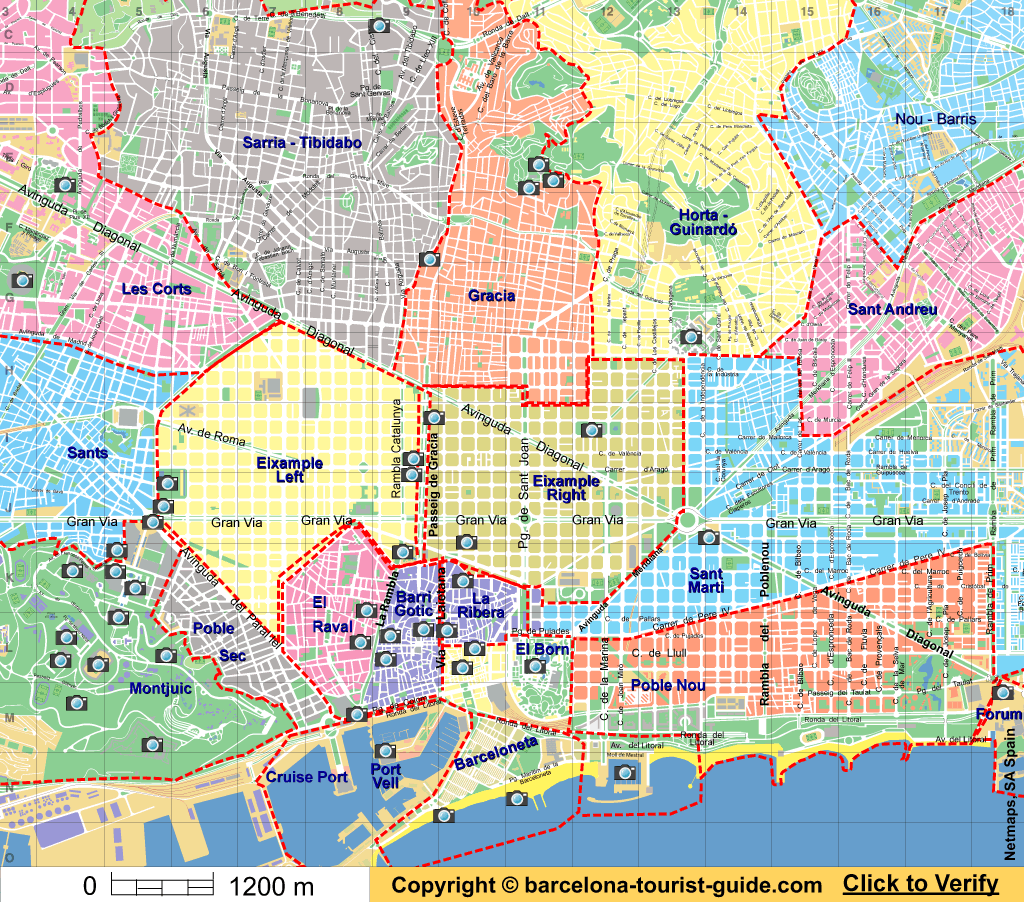 <![endif]>Map of Barcelona that includes the street names and different districts. Sites are also pictured here with attractions all across the city. Knowing all the hot-spots in the city will be helpful for traveling through the city.
6 Urban Transportation
Rail Map of Spain
<![if !vml]>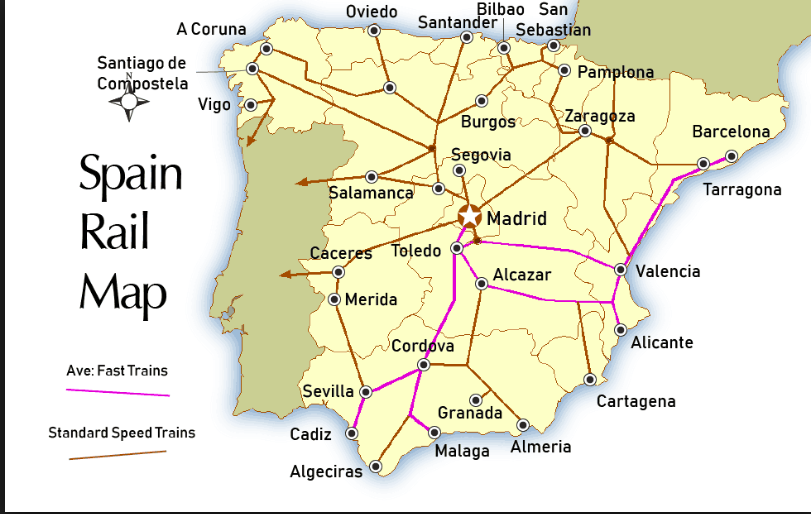 <![endif]>
Includes the routes of the two different trains featured here. If you decide to take the train from town to city or across Spain, this map has the towns and the routes put out.
Metro Map in Barcelona
<![if !vml]>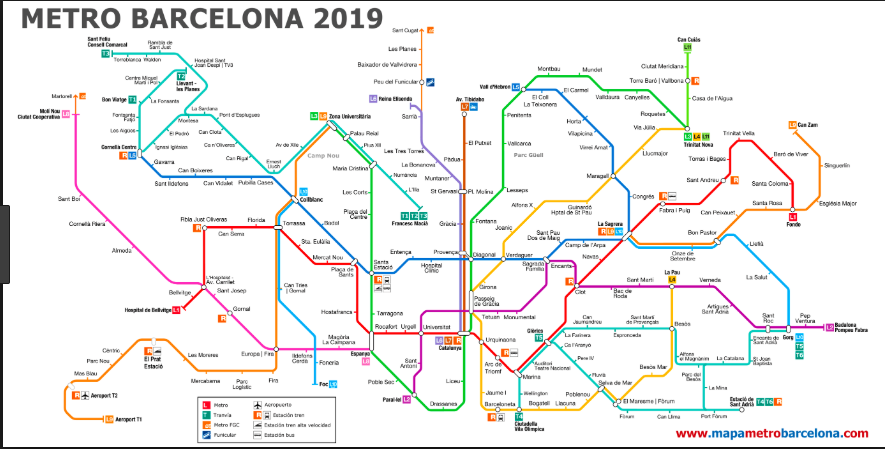 <![endif]>
A map of the metro in Barcelona. There is also a metro people can take in the city of Barcelona, good to have different options of transportation and also knowing the routes.
Metro Map in Madrid
<![if !vml]>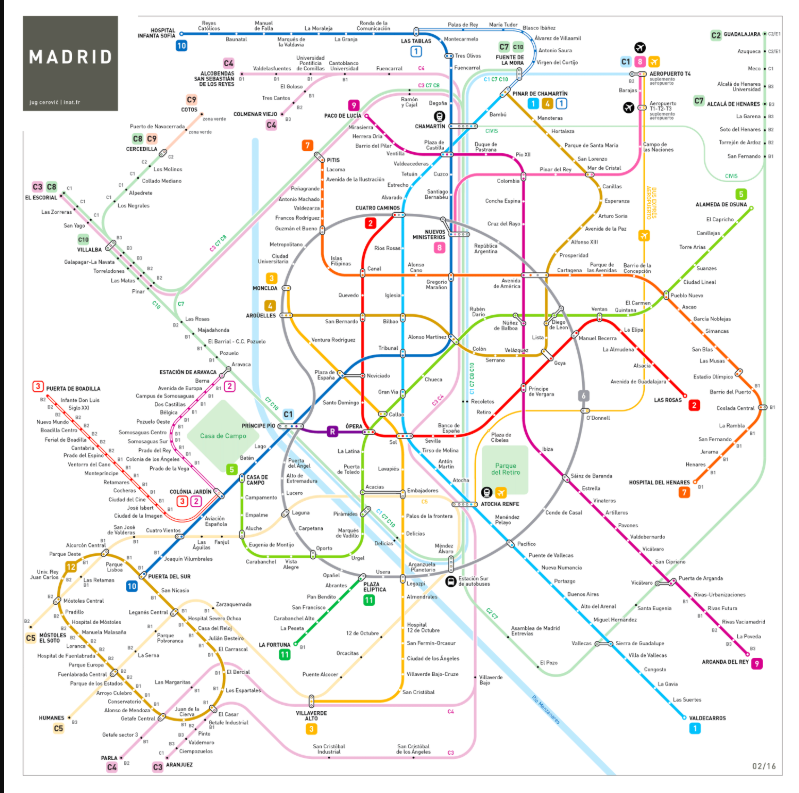 <![endif]>
A map of the metro in Madrid, just like the map of the metro in Barcelona. Always important to know different modes of transportation and having the routes to them.
7 Tourist Sites
Tourist Map of Barcelona
<![if !vml]>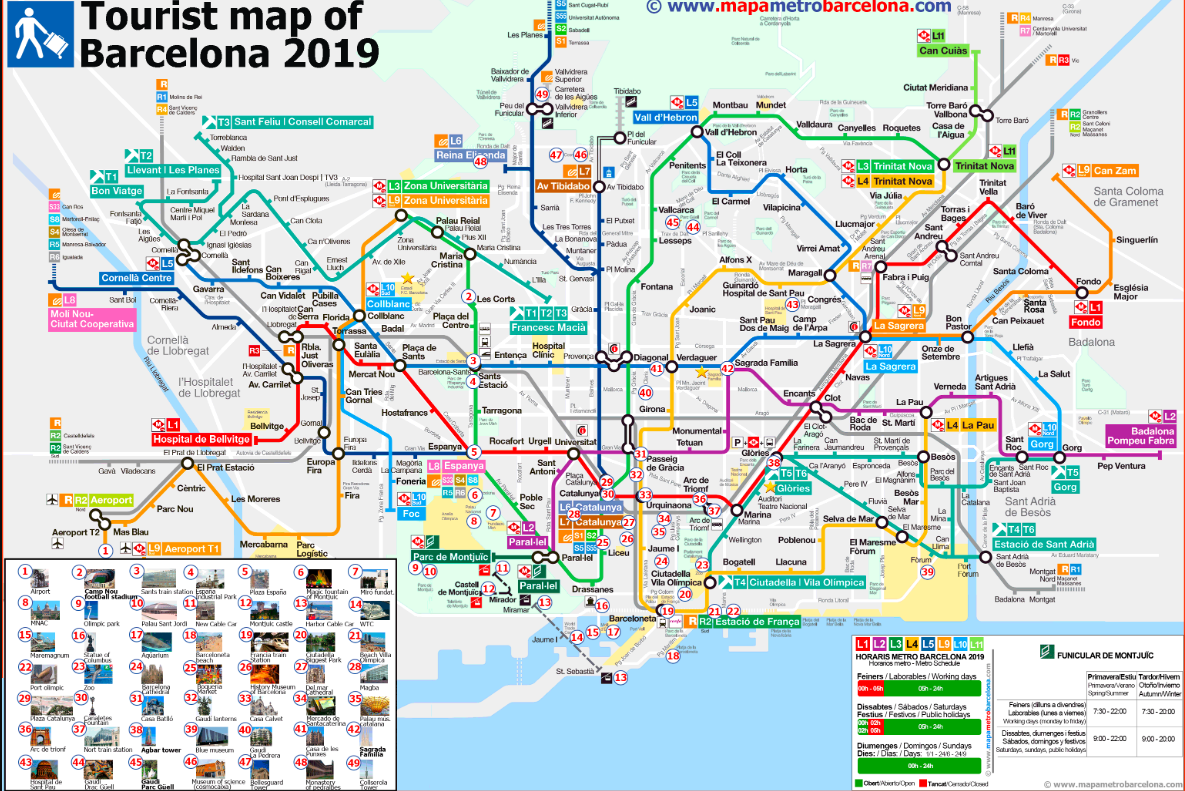 <![endif]>
A map that includes plenty of attractions all across Barcelona, it is up to date to this year. Great for the first time going to the city and not knowing where to stop or where all of the great and important landmarks or attractions are at. This includes the streets.
Detailed Tourist/bus Map
<![if !vml]>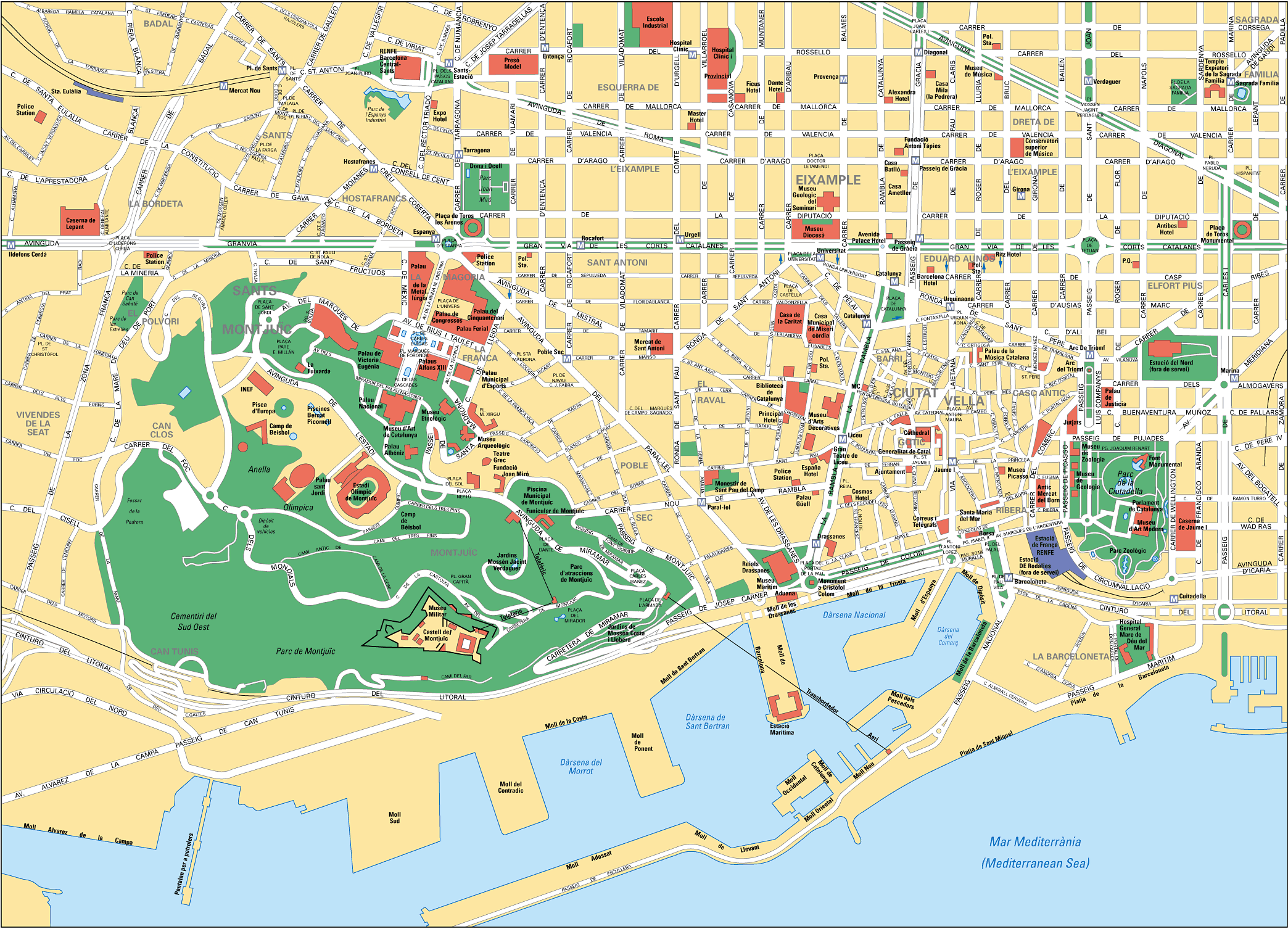 <![endif]>
Map includes important monuments and even tourist bus, landmarks, museums, and other attractions. This shows and has more detailed street names.
Tourist Map of Madrid
<![if !vml]>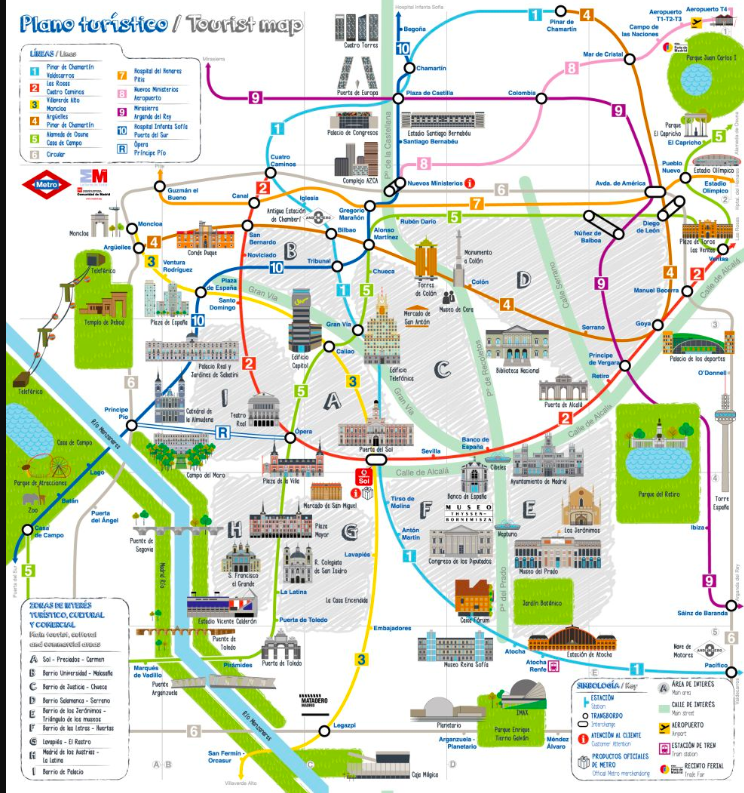 <![endif]>
Tourist map shows many different pictures of various buildings and attractions. Good to have for the first time visiting and not knowing where to go or what to visit.
---
Submitted by [Julisa Prieto-Garcia] on [March 1, 2019].